On November 2, relatives and friends of the victims of the Odessa massacre gathered at the Kulikovo field in remembrance as they do on the second of every month to mark the events on May 2, 2014. This time they were attacked by thugs from Automaidan who assaulted them and burnt down a poster with pictures of the victims. The Automaidan "activists" were led by Eugene Rezvushkin, a leading member of this paramilitary organisation which is supposed to be under house arrest. 
Relatives and friends of the victims of the Odessa massacre had planned to gather to mark 18 months since the killing of dozens of anti-Maidan activists trapped in the Trade Union House which fascist thugs had set on fire on May 2, 2014, a group of a few dozen "Automaidan" thugs arrived under the guise of holding a "patriotic song contest". It was a clear provocation and many of them were dressed in paramilitary fatigues. Automaidan was one of the several far right organisations which took part in the Odessa massacre.
Despite the police presence, when the Kulikovo field mourners hung up posters with the pictures of the victims, they were assaulted by the Automaidan thugs, the posters torn down and then burnt.
At the head of Automaidan "activists" on the day was their Odessa leader Eugene Rezvushkin, who is supposed to be under house arrest, after being put on trial for his responsibility in the assault against a local prosecutor.
In May this year, a large group of Automaidan thugs surrounded the Odessa region court of appeal with the stated intention of grabbing the prosecutor Yuri Bogomol and throwing him into a rubbish container (see report here).
Finally, after clashes and hitting, the prosecutor had to be escorted out under heavy police protection. Rezvushkin was charged with "bullying and threats or violence against law enforcement officers".
During the trial of Rezvushkin in September, Automaidan supporters again rioted and burnt tyres outside the court house (see report here).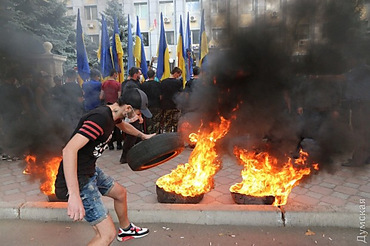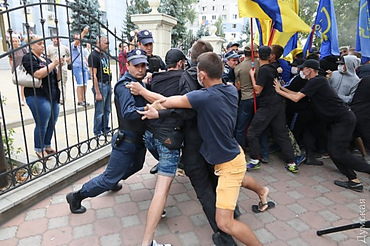 Sources:
Kulikovo field confrontation (Odessa1)
Kulikovo field: one and a half years after the tragedy (Timer)